Founder's Story: Nurturing a Passion into Paddle Adventure
Nicole Killian, Founder of SUP Englewood Est. 2012
Growing up on the pristine shores of Englewood, Florida, I found my sanctuary in the waters and the allure of nature. From an early age, my heart beat in harmony with the rhythm of the tides. It was during my teenage years that destiny placed a paddle board in my hands, igniting a lifelong passion for Stand-Up Paddleboarding (SUP). The mesmerizing wildlife and uncharted waters became my canvas for exploration.
A Dream Takes Root: Pioneering SUP Englewood
As the years passed, my passion naturally evolved into a gift I wanted to share. With every paddle stroke, I found myself guiding locals, offering impromptu lessons, and witnessing the enchantment of others discovering SUP. These encounters nurtured the seed of an idea that would eventually blossom into SUP Englewood, a testament to my dedication to nurturing an enduring bond between people and the water.
The Evolution: From Beach to Business
Armed with a Bachelor's degree in Psychology, I ventured into the realm of social work after graduation. However, the pull of my true calling grew irresistible. With the support of Englewood's spirited community, I forged a new path and founded SUP Englewood in 2012. It was their enthusiasm and eagerness to embrace this watersport that confirmed the viability of my dream.
Challenges Faced and Overcome
Yet, life's journey is never without its challenges. Health issues prompted a temporary hiatus from my beloved enterprise. The decision to step away was heart-wrenching, but it was essential for my well-being. A sabbatical followed, during which I yearned to reconnect with the waves and share my passion anew.
A Revival and Reconnection
After a six-month hiatus, the call of the water was too strong to resist. In 2017, SUP Englewood was reborn, this time from the Lido area in Sarasota. The support of cherished clients bolstered my determination. However, fate had more trials in store—red tides and unforeseen disruptions tested our resilience. Then, as waters calmed and skies brightened, the world was thrust into the challenges of 2020.
A Glimmer of Hope and Renewal
Amidst these trials, a quiet yet persistent inner voice led me back to where it all began—Englewood. Guided by intuition, I returned to my roots. With gratitude and a firm belief in my journey, I embraced a fresh start. The path back home was illuminated, reaffirmed by fortuitous encounters and aligned opportunities.
Rekindling the Dream: Englewood Revisited
In January 2021, SUP Englewood's triumphant return was marked by the harmonious symphony of reopened doors and renewed passion. Stepping into a new chapter, my commitment to community service and fostering environmental consciousness remains steadfast. Guiding others on the journey of safety, conservation, and paddling mastery is not just my mission; it's a reflection of my deep-seated connection to these waters.
Embrace the Experience
Today, as you embark on your paddling adventure with SUP Englewood, know that each stroke carries with it the essence of a passionate journey. Every ripple speaks of resilience, every whisper of the wind carries a story. Join us, and let's explore the wonders of nature together—uniting our spirits with the tranquil waters that have always been my home.
Nicole Killian
Founder, SUP Englewood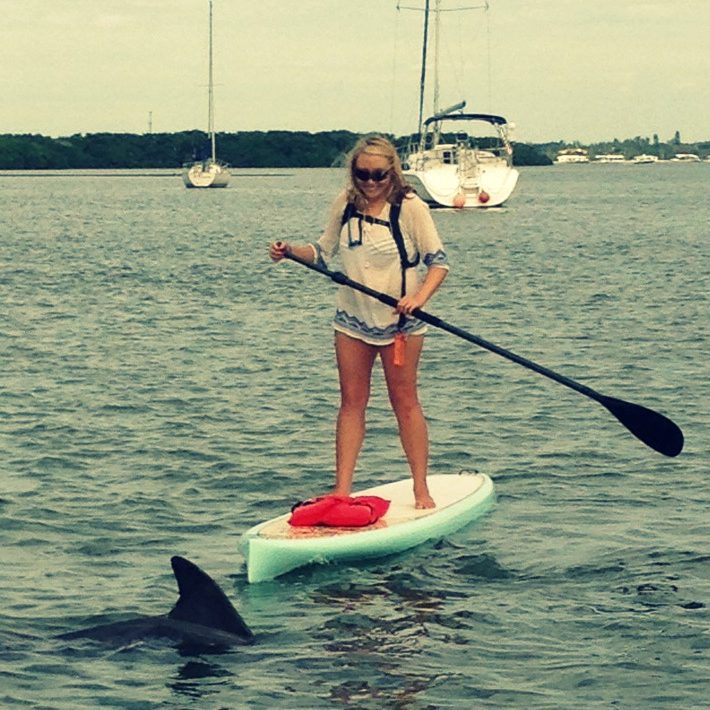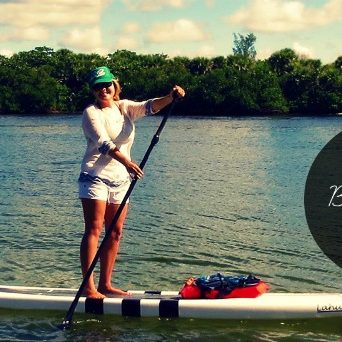 Beginnings & Certifications
Before launching SUP Englewood, Nicole Killian committed herself to mastering water safety by taking lifeguarding and CPR courses.
Focused Training
Nicole chose PaddleFit as her specialization because of its emphasis on fitness on the board, proper paddle strokes, and rescue techniques. She advanced to become a Level 3 instructor and a PaddleFit Affiliate.
Expanding Knowledge
While at a Level 3 PaddleFit course, Nicole met another business owner who introduced her to the Academy of Surfing Instruction (ASI). Impressed by ASI's intense focus on safety, she took their water safety, Level 1, and Level 2 courses.
Setting Standards
SUP Englewood became the first ASI-certified school in the area in 2015, meeting rigorous safety standards.
Diversification: SUP Yoga
Nicole then followed her passion for yoga. Despite the challenges of juggling business responsibilities, she completed a 200-hour yoga program with Heartwood Yoga, thanks to the support of her teammates.
Expansion: Kayak Eco Tours
Recognizing a local demand for more eco-tours, especially kayaking, Nicole was inspired by Marian, a local paddling sports pioneer. She followed Marian's guidance and enrolled in the Florida Master Naturalist program.
Team Development
Nicole also encouraged her teammates to become certified naturalists, enhancing the quality of the tours offered by SUP Englewood.
Mastery in Naturalism
Having completed training in upland, wetlands, and coastal systems, Nicole now holds the title of Florida Master Naturalist. She focuses on educating the public about these interconnected ecosystems.
Core Values
At the heart of it all, Nicole loves talking about nature while leading groups on water tours. Her number one priority, however, is safety. When people take a tour with Nicole, they can expect an educationally rich, safe, and fulfilling experience.
Unique Position
After years of hard work, Nicole confidently states that she is one of the most certified guides in Southwest Florida.
Overall, SUP Englewood has grown into a diverse and robust business, setting high standards for safety and environmental education in the community. It has continually expanded its offerings based on community needs and Nicole's evolving expertise.