Stump Pass Beach State Park
Experience Paddle Boarding & Clear Kayaking Adventures
Dive into a unique water escapade with SUP Englewood! We offer exclusive Stand Up Paddle (SUP) Board Tours and Clear Bottom Kayak Tours at the picturesque Stump Pass Beach State Park. Due to the exclusivity of our equipment at this location, availability is limited. Ensure your spot on this unforgettable journey by making a reservation. Ready for an aquatic adventure? Book your experience now!
Paddling Services at Stump Pass Beach
Manatees at Stump Pass Beach State Park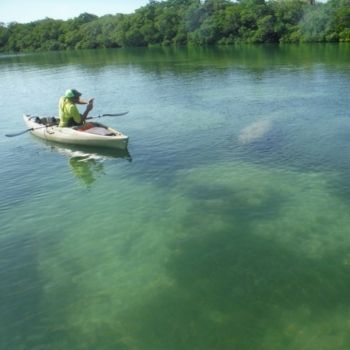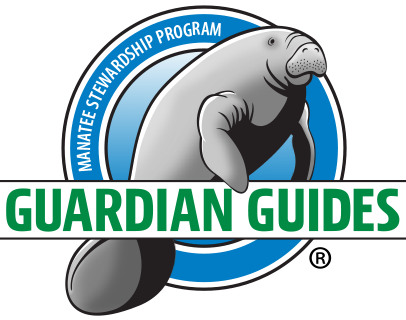 Discover the beauty of Manasota Key by paddling at Stump Pass Beach State Park
Nestled at the southernmost tip of Manasota Key, Stump Pass Beach State Park offers a serene escape into nature. This barrier island, is a stone's throw away from both Englewood and Venice.A haven for wildlife enthusiasts, Stump Pass Beach State Park teems with diverse marine life. It's not uncommon for visitors to spot playful dolphins, gentle manatees, vibrant live shells, and other captivating marine creatures. Dive deeper into the area's rich environment on our guided eco tours, where you'll not only witness nature's marvels but also immerse yourself in the intriguing local history.
For those eager to experience the park's beauty up close, we offer exclusive SUP Tours and Clear Kayak Tours. Reservations are essential to ensure a personalized experience.
Where is Stump Pass Beach State Park Located?
Strategically located on Manasota Key in Englewood, FL, Stump Pass Beach is in close proximity to notable destinations like Gasparilla Island, Placida, downtown Englewood, and Venice. Moreover, it's a short drive for residents and tourists from Punta Gorda, Sarasota, Cape Coral, and Fort Myers, making it a convenient getaway for all.
Book Stump Pass Beach State Park
Address
Launch Address: 900 Gulf Blvd Englewood, FL 34223
Open: Available By Reservation
Reservations Required
Need Help?
Call: 941-26KAYAK | 941-265-2925
Email: Contact@supenglewood.com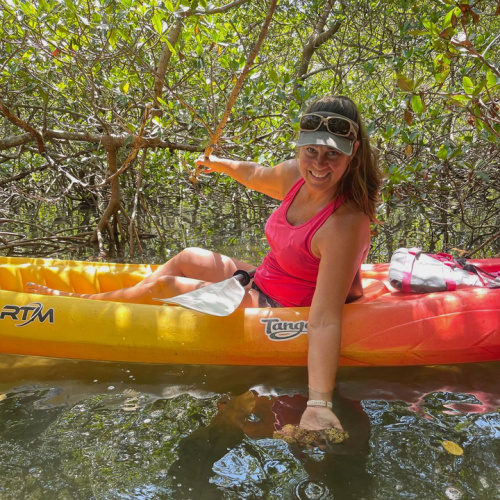 Janda H.
Janda is always willing to jump into action on guided eco tours. She is certified Florida Master Naturalist in Coastal Waters. Janda has many years of experience as a kayak and SUP guide.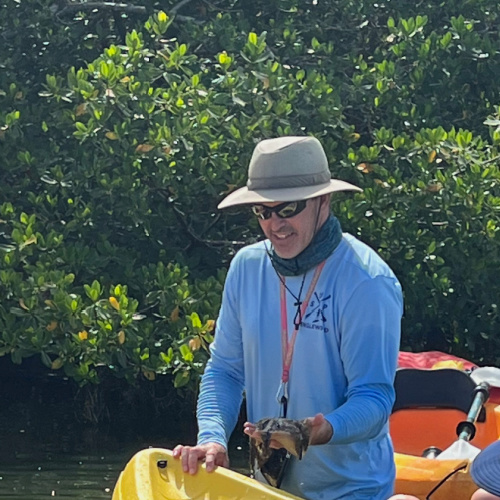 Michael W.
Mike is an experienced kayak guide and birder. Find him leading tours with SUP Englewood and the Audubon Society in Venice, FL. Expect to learn as you paddle with Mike.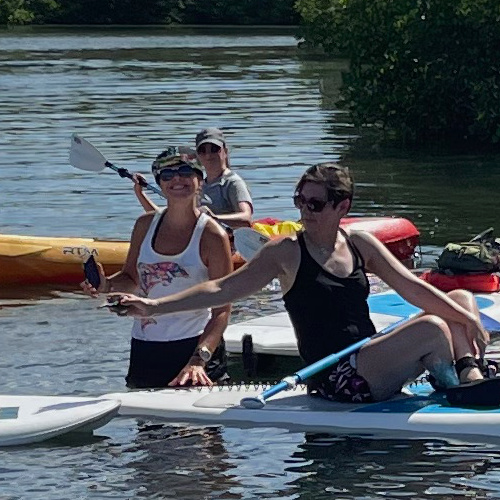 Logan E.
Logan leads with her heart and is always happy to be on the water. Find her in her element on SUP tours. She has an extensive resume in safety, waterways, and the environment.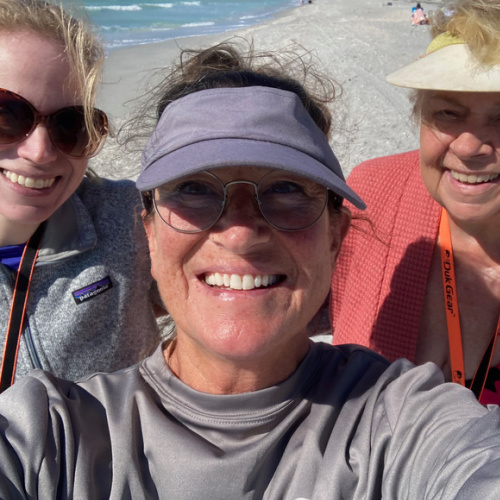 Beth M.
Beth is ACA certified as a SUP Instructor and she is also certified as a Coastal Florida Master Naturalist.Find Beth on her paddle board looking for manatees and dolphins. She's also a registered nurse and prepared for any emergency at all times.
FAQ's About Stump Pass Beach
Can I Park at Stump Pass Beach?
Stump Pass Beach State Park offers limited parking and is the top destination in Englewood, FL. Parking is not guaranteed. We recommend arriving at least 45 mins prior to your reservation to help you locate parking.
Another alternative is to park elsewhere on Manasota Key and utilize Stumpy's Free Ride Service. Their staff relies on tips, so please bring cash tips for them.
Do you have to pay to park at Stump Pass Beach State Park?
Yes, the parking fee is $3 per car or $2 per person if dropped off at the state park.
This fee is waived if you are park pass holder. Entrance fees are required by Florida State Parks.
Are Dogs allowed on Stump Pass Beach?
Dogs are not allowed on the beach due to environmental concerns. Locally, there is several populations of birds that nest in the sand on the beach. When dogs scare the birds away from their eggs and chicks it causes increased predation to their species.
Also, during sea turtle season dogs are prone to follow their instincts and can dig up sea turtle eggs.
Dogs are allowed on a leash on the walking trail however, they are not permitted on the beach. 
Is Stump Pass Beach open after Hurricane Ian?
The Stump Pass Beach State Park opened in January 2023 following Hurricane Ian. The park is open daily from sunrise to sunset.
Is SUP Englewood at the park every day?
SUP Englewood is only at this location by reservation. We are not associated with Stump Pass Beach State Park. SUP Englewood is a private business and offers services by reservation. No payments are ever conducted on State Park property.