Paddle Board Rentals & Tours
Explore the local waterways on a paddle board! SUP Englewood provides paddle board rentals, lessons, and eco tours in Englewood and Boca Grande. Paddle Board rentals can be delivered to any local barrier island location including: Manasota Key, Palm Island, Don Pedro Island State Park, Little Gasparilla, Cape Haze, Boca Grande, and the surrounding Placida area.
#1 Paddle Board Company!
Paddle board in Englewood on a guided eco tour, lesson, or equipment rental. Discover wildlife, manatees, and dolphins while exploring the barrier islands in Lemon Bay. No experience required! SUP Englewood will teach you everything you need to know about paddle boarding.
Private Tours Available by Request
SUP Englewood offers small group tours and private trips for your family. Simply ask for a private tour or lesson when you call. Experience nature up-close with your family on a guided paddling tour.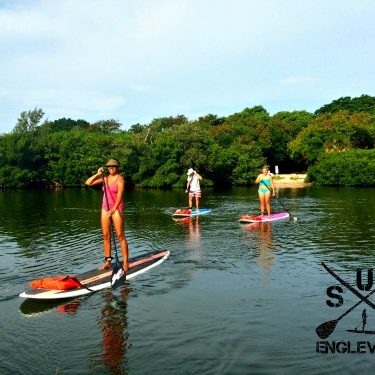 Paddle Board Lessons Start on Land! 
*A Paddle Board Land Lesson is included on every rental, tour and lesson.  All safety equipment is provided for every person on the water. Learn more about paddle craft safety. 
A land lesson will be provided for basic safety before starting out on the water. This Stand Up Paddle Board lesson will cover the following:
1. How to properly stand up on the paddle board.
2. Basic paddle stroke for paddle boarding (how to go straight)
3. Basic turns for paddling (how to steer)
4. Balancing techniques for beginners.
5. Identify paddling hazards.
6. How to Self-Rescue
7. Safety tips for paddling the Gulf of Mexico and Lemon Bay
Paddle Board Eco Tours
Paddle Board Guided Eco Tours focus on instruction for beginners and environmental education. Florida Master Naturalist certified tour guides lead groups around the barrier islands. You'll learn so much about the environment and see lots of wildlife. 
Paddle Boarders and Kayakers are welcome on our guided eco tour. This is a perfect family outing for all ages.
Common Sightings:
Dolphins

Manatees

Live Shells (sea stars, hermit crabs, and conch)

Birds
What's Included: 
Florida Master Naturalist 

Certified SUP Instructor 

Everything that SUP Rentals Provide 

Bottled Water 

Photos from your paddle board eco tour 
Paddle Board Rentals
Venture solo on a paddle board rental at any of our locations. Rentals are up to 4 hours in duration. If you're looking for longer rental period, we also offer a full day rate which is $65 per board. We also provide multiple day and weekly rates with delivery in our local service area. 
SUP Rentals Include: 
Map of the area

Bottled water

Dry bags 

Phone cases 

Safety & Paddling orientation 

Access to our bug spray & sunscreen station 
Turn Your Day into an Adventure!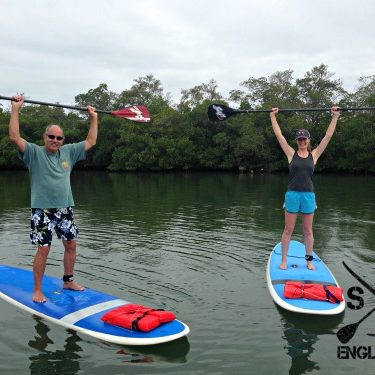 Paddle boarding is as strenuous as you want it to be. Whether you're looking to get into touring, racing, distance, or stamina training. Paddling drills will help you to learn proper stroke and give you options for practicing on your own.
Take a Paddle Board Tour with an Instructor
SUP Englewood provides a progression for those who want to learn about this new sport. There's a lot of information on stance, stroke, turns, balance, fitness, surf and flat water. We offer beginner lessons daily. These trips include everything you need to have a fun and safe experience on the water.
Experience the benefit of having a PaddleFIT Certified Instructor.
What will you learn on a SUP lesson?
1. How to prevent injury
2. How to self-rescue
3. The boating laws and safety tips
4. Local knowledge of paddling hazards
5. All the skills you need before venturing out solo
Top 5 Paddle Boarding Techniques:
1. Cross-Bow and Pivot Turns
2. Feathering
3. The Power Zone
4. Paddle Drills
5. Skills Training
Paddle Boarding FAQ's
What should I take with me?
Water

Snacks

Hat

Sunglasses 

Flip flops or water shoe 

Clothes you don't mind getting wet

Any medication needed during the paddling outing

Towels for the car
Do we need reservations?
Yes, reservations are required for all paddling activities. Please book online or call prior to arrival at any of our locations. 
Are life vests included?
Yes, all rental and safety equipment is included with every rental and tour. We keep small sized life vests on hand for children. Paddle boards come with leashes for your ankle to help keep you attached to the board at all times. 
Can I bring my cell phone?
Absolutely! We have dry bags and DukGear phone cases for your watersports activity. We recommend bringing your phone when venturing out solo so you have communication in case of an emergency. It's a good idea to make a float plan and let us know when you plan to return for your safety on the water. 
How many people can a paddle board hold?
Paddle Boards are designed to hold 1 person at a time. 
What are your age requirements for paddling boarding?
We recommend paddle boarding activities for children 14 and older.
Parents that bring children under this age requirement are liable for their child's safety and wellbeing during tours and rentals.

SUP Englewood will provide an additional leash or tow rope to allow parents a way to rescue and tow their tow their own children.

SUP Englewood guides and instructors must be available and ready in the event of a real emergency on the water.
Is there a weight limit on paddle boards?
Our paddle board manufactures weight limit is 350 pounds. For a comfortable paddling experience we recommend that participants be 300 pounds or less for paddle boarding activities. At SUP Englewood, we carry tandem kayaks that hold up to 550 pounds and can be modified for a solo paddling experience. 
What Paddle Board is Best for Beginners?
Learn more about our paddle boards 
After many years of teaching beginners how to paddle board we have finally found the best paddle board! We use and recommend the Tahe Beach model paddle board. This paddle board features great durability allowing beginners peace of mind during use as this board is not easily damaged. This board also very wide (34") which allows for beginners to feel more stable when standing for the first-time.
Discover why thick rails make a difference for beginners: 
The rails or sides of the paddle board are also very thick. This added height to the rails prevents the board from feeling too tippy during use. Follow us for more tips on our paddle boarding blog. Find more recommendations on buying paddle boards.