Are you looking for a kayak rental in Englewood or a surrounding area? Look no further! You can pick up a kayak rental at one of our locations or we can come to you. Delivery Included with every kayak rental! Rental options include: half day (4 hour), full day (8 hours), multiple day and weekly kayak rentals.
Kayak Rental Rates
Rental Duration
Single Kayaks
Double Kayaks
Half Day (4 hours)
$65
$75
Full Day (8 hours)
$85
$85
Kayaks Include
All safety equipment
Paddles
Dry bags
Free delivery in our service area
Paddle Craft Safety Briefing
Delivery Options
Your waterfront vacation rental
Manasota Key
Florida State Parks
Charlotte County Parks
Englewood Beach
Stump Pass Beach State Park
Gasparilla Island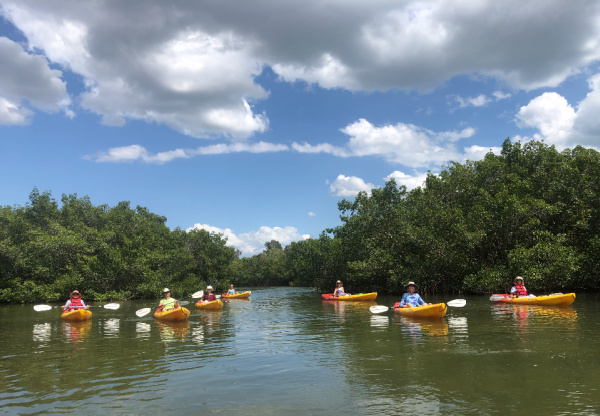 Our delivery service area includes all barrier islands from Manasota Key to Boca Grande. Even boat access only islands, like Palm Island and Little Gasparilla Island. Delivery and pick up is always free!
Don Pedro Island State Park Kayak Rentals
Discover adventure on a kayak rental at Don Pedro Island State Park. Kayak through a mangrove forest and explore the waterways of Lemon Bay and Kettle Harbor. This marine estuary is abundant with sea stars, hermit crabs, dolphins and manatees. SUP Englewood offers many ways to get on the water at this location. Explore the waters on SUP Tours, Kayak Tours or with Rental Equipment. Book your experience today! 
Contact Us
Address: 8450 Placida Road Placida, FL 33946
Open: Wednesday to Sunday 8 AM to 5 PM
Reservations Required. Please call ahead or book online for same day reservations
Call: 941-26KAYAK | 941-265-2925
Email: Contact@supenglewood.com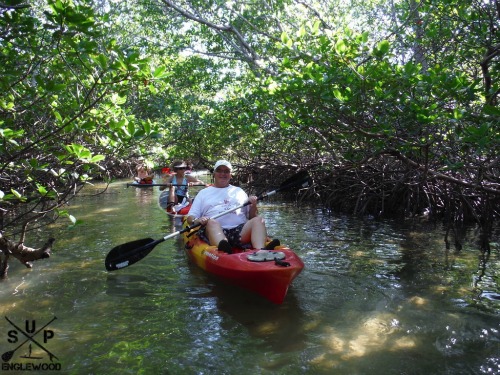 Please note:  All kayak rentals are by reservation.  Please do not show up to the park without a reservation.  This Florida State Park is only open Wednesday to Sunday. We operate out of Boca Grande on Monday's and Tuesday's.
Kayak Rentals near Englewood, FL
Multiple Day & Weekly Kayak Rental Rates | Delivery Included
2 Day Rental

$

110

Per Vessel
3 Day Rental

$

150

Per Vessel
4 Day Rental

$

190

Per Vessel
5 Day Rental

$

220

Per Vessel
6 Day Rental

$

250

Per Vessel
7 Day Rental

$

285

Per Vessel
Delivery Locations For Multiple Day & Weekly Kayak Rentals Include:
Manasota Key
Englewood
Placida
Cape Haze
Boca Grande | Gasparilla Island
Palm Island | Knight Island
Little Gasparilla Island (LGI) | Don Pedro Island
Port Charlotte
Punta Gorda
Venice
Casey Key
Free Delivery for Kayak Rentals in Englewood, Manasota Key, Boca Grande, Placida and surrounding areas.
* Free delivery for any rental 2 days or longer
Book a Multiple Day or Weekly Kayak Rental
Email us at contact@supenglewood.com or give us a call at 941-265-2925.
The Best Kayak Rental Equipment in Englewood
Where can I go on a kayak rental?
Enjoy kayak rentals in Englewood, Boca Grande and Manasota Key. Kayak the flat waterways surrounding Southwest Florida. Spend your vacation or free time paddling along the coastline, fishing, or exploring the mangroves. Discover the top kayaking destinations on a self-guided trip. If you're unfamiliar with the area or just looking to learn more about the environment, view our kayak guided tour schedule.
How do I stay safe while paddling solo?
Safety information is provided with every kayak rental. Learn where to paddle safely, brief instruction on boating laws, and personal safety. We provide paddling maps for our coastal locations.
What comes with the rental?
Kayak rentals are all inclusive and provide all the safety equipment needed to meet U.S. Coastguard legal requirements.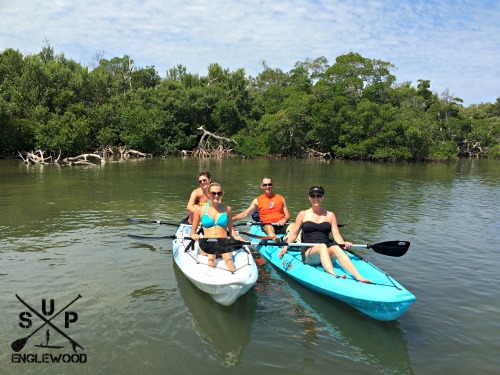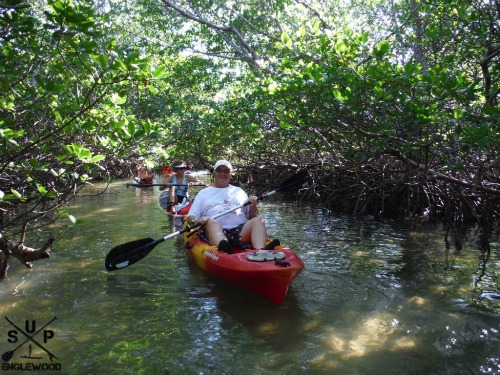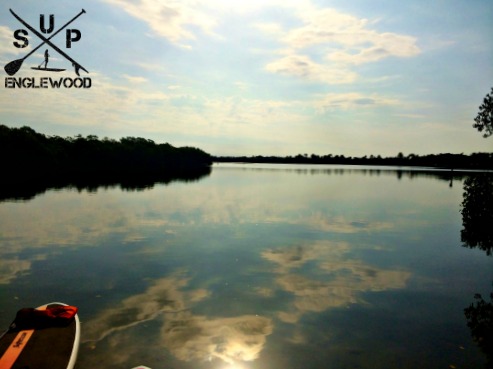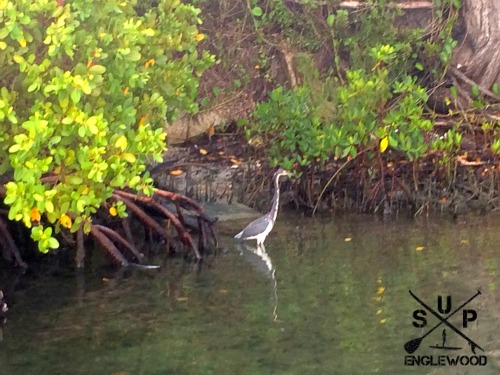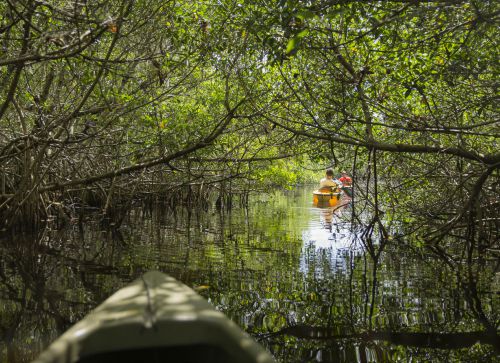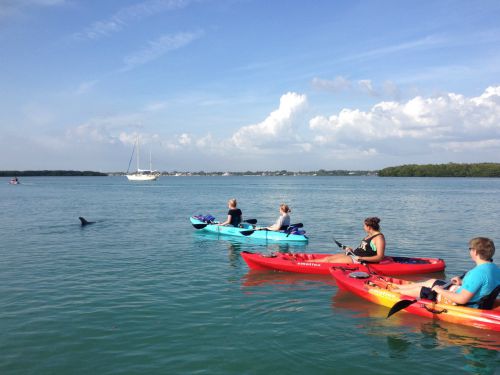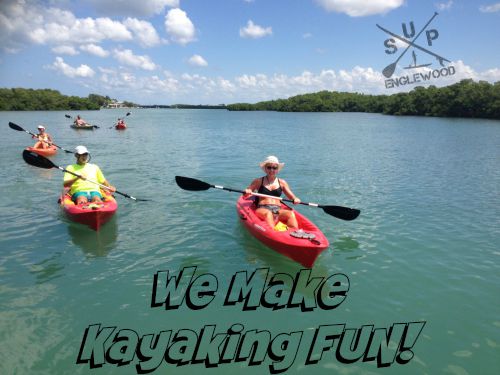 Tips for paddling with kids on kayak rentals
Pair kids with an adult in a tandem (two person).  This way someone can take over the paddling if needed. People between 50-110 pounds should be in a tandem kayak due to their weight.
Anyone under 50 pounds should ride along on the kayak and not be expected to paddle.  We carry larger kayaks that offer a third seat in the middle of the vessel for smaller riders.

These kayaks can hold up to 575 pounds, and up to 2 adults and a child under 50 pounds.

If you need this option please ask for a tandem. This kayak is a favorite among families with young children.
Ask about our Family Friendly Kayaks.
Life vests are provided for all children but let us know how much they weigh in advance.
Tandems feature two seats, which are a great for young children to learn how to paddle
Don't forgot the water and sun protection.
Enjoy cooler weather during the early morning or later in the evening.