Kayak Options
Locations are convenient to Manasota Key, Englewood, Don Pedro Island, and Boca Grande. Our company was founded in 2012 as a touring company with the goal of bringing guests to the best destinations.
What are the benefits of taking a kayak tour?
The biggest benefit to taking a kayak tour is seeing more marine life on the water.  Moreover, you can expect to learn about the coastal ecosystem.  Additionally, your guide will name every bird, fish and sea creature you see while paddling.  It's an experience the whole family can enjoy!
Why Use Sit on Top Kayaks in Coastal Waterways?
Self-bailing kayaks is the safest option for beginners. Sit on top boats will help to keep you cool in the hot, Florida sun. Storage is located at the back of every kayak, perfect for storing cold drinks, sunscreen, and fishing supplies.
Do I have to take a kayak tour?
Kayaking rentals are available every day at a launch location. We also provide kayak rentals with delivery to your waterfront property. Learn more about kayak rentals, to view other drop off locations and weekly kayak rental pricing. 
Tips for Paddling in Southwest Florida
What can I bring with me?
Water

Sunscreen

Waterproof Camera

Flip Flops or Water Shoes

Any medication that might be needed during the trip

Pack a light snack if you're diabetic or have any other medical conditions

We provide dry bags for your keys and cell phone.  Although we recommend leaving valuables in the car.
Recommendations:
Towels for the car

A change of clothes if you plan on going anywhere afterwards

Always eat before you go paddling as you'll burn lots of calories paddling in the sun and you need energy.

Show up hydrated.

Avoid heavy drinking the evening prior to your paddling trip.  We've had many guests that struggle with hydration after an evening out.

If you're enjoying the beach and other outdoor activities remember your sunscreen.  Sunburn can make other outdoor activities unbearable afterwards.
Paddle the flat waterways and barrier islands in Southwest Florida. Spend your vacation or free time exploring the coastline, fishing, or watching the wildlife. Discover the best locations for paddling as we tour the top kayaking destinations in Southwest Florida.
Kayak Englewood and the surrounding areas
SUP Englewood offers touring destinations for you to explore with a guide or solo.  Create your own kayaking adventure. 
Fishing
Watersport Rental Equipment can be used for kayak fishing trips.  Bring your own rod and tackle.  We'll take care of the rest!  Simply request one of our fishing kayaks when booking with us.  This will provide you with rod holders for efficient paddling while fishing.  We use Pescador 12′ Fishing Kayaks for a premier experience on the waterways.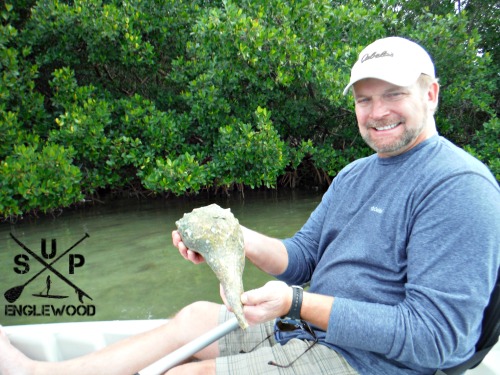 Everything You Need
Services include all water sports equipment and safety equipment needed. As well as all kayaking accessories, such as dry bags and waterproof phone cases. Before kayaking, our staff reviews a paddling map of the area.  Additionally, our guides and staff will provide you with water safety information.  During a kayaking land lesson, you can expect to learn about boating lanes, paddling hazards, and tips for padding.
Important Recommendations for Paddling with Medical Conditions
Additionally SUP Englewood recommends guided tours with a certified instructor in water safety for anyone with a medical diagnosis that poses a safety risk while on the water.
For example, medical conditions include:
Diabetes

Hypoglycemia

Seizure disorders

History of fainting

Asthma

Insect Allergies
Moreover, anything that can cause you lose consciousness on the water is a serious risk to your safety.  Please inform our staff so we can assist you in booking the best and safest experience for you.