[two_thirds][five_twelfths]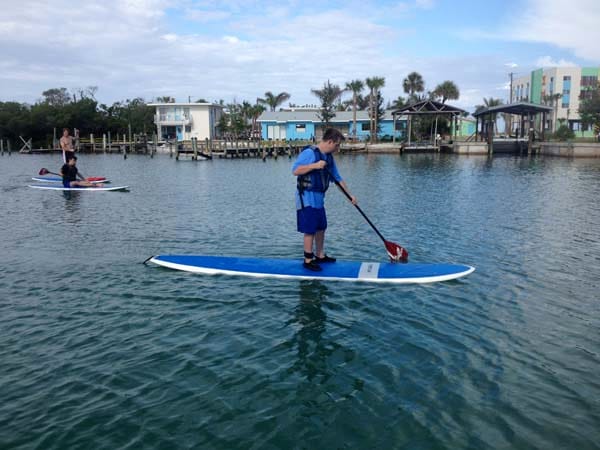 [/five_twelfths][seven_twelfths_last][title]Everyone Should Experience SUP[/title]
SUP Englewood offers private lessons for children and adults with special needs. Individualized plans ensure success in the SUP sport. SUP Englewood is proud to be a Registered Training Program (RTP) for two local counties in Special Olympics Florida. Participating at SUP practices requires registration for athletes and volunteers through Special Olympics Florida Sarasota County or Special Olympics Florida Charlotte County. Stand Up Paddle (SUP) will be an official sport of Special Olympics Florida in 2015.
With constant encouragement and care individuals with special needs can enjoy paddle boarding. Book private lessons through SUP Englewood or sign up for free trainings by registering to be an athlete in Special Olympics Florida. Local offices are located in Venice and Port Charlotte for Sarasota and Charlotte County athletes.
*Please note that all of our photos have been taken by SUP Englewood.
[/seven_twelfths_last][/two_thirds][one_third_last][title]Benefits[/title][toggle title="Strength Building"]Paddle boarding is a low impact sport that utilizes the gross motor muscle groups for standing and paddling. Natural resistance from the water and wind builds strength and endurance. [/toggle][toggle title="Balance"]Balance is a foundational skill for success in the sport. Paddle boarding engages secondary muscles which are responsible for balance and coordination. SUP increases body awareness and leads to improved posture.[/toggle][toggle title="Motor Planning"]Learning how to use the paddle to navigate the board involves motor planning and problem solving skills. Practicing these skills for SUP will carry over to other daily living activities. An Occupational Therapist volunteers every week for Special Olympics Florida local SUP teams. Input is provided by the OT for individual and group activities to ensure gradual success with SUP.[/toggle][toggle title="Social Skills"]Social communication skills are part of the Special Olympics Florida Sarasota & Charlotte County SUP Practice experience. In small groups participants can form friendships with peers through the activities offered in the lessons. A Speech-Lanuage Pathologist volunteers every week at the SUP practices providing input and social activities for the training program.[/toggle][toggle title="Learning a New Sport"]Participants can expect to be paddle boarding in no time! Activities are modified to ensure success as the basic skills of SUP are taught with laughter and joy. Participants can sit, kneel or stand. SUP is versatile and the workout is only as demanding as desired.[/toggle][toggle title="Enjoying the water & wildlife"]While on a SUP Board participants can explore and learn about the nature and sea life that surrounds our Gulf Coast. View birds, fish, dolphins, and manatees in their natural habitats. Enjoy the sights and sounds while learning SUP as this is a multi-sensory experience.[/toggle][/one_third_last]
[title size="medium"]Private Special Needs SUP Lessons[/title]
SUP Englewood offers private modified lessons for individuals with autism & other various exceptionalities. Participants will experience a new, fun water sport while gaining independence and confidence. Lessons are provided by a certified lifeguard and certified Special Olympics Florida SUP Coach.
Stand Up Paddle Boarding is a relaxing, enjoyable physical activity engaging the mind and gross motor muscles of the body. Modifications are made to ensure gradual success. To begin lessons will be held for half-hour long sessions and will gradually increase as strength builds. Parents are encouraged to stay during the lesson.
Participants must be able to swim and are encouraged to wear a properly fitting personal floatation device (PDF). If you have any questions regarding PDF's please call 941-234-4311.
[button url="https://www.supenglewood.com/contact/" size="large"]Book a SUP Special Needs Lesson Today![/button]
[section background="http://supenglewood.com/wp-content/uploads/2013/04/water-at-stump-pass.jpg"][tours columns="4″ number="4″][/section]