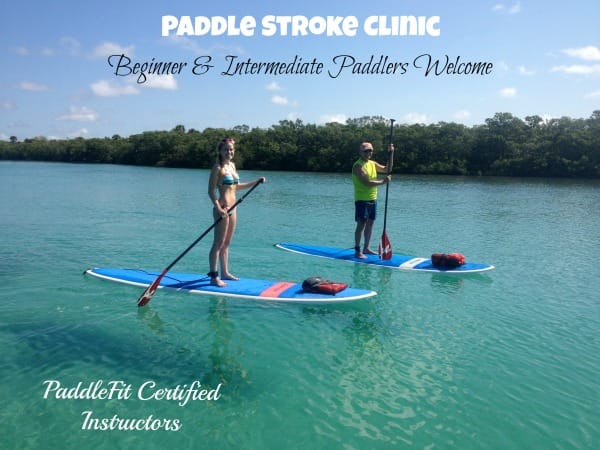 Proper Paddle Board Stroke
Stand Up Paddle (SUP) Boarding is a dynamic sport and its appeal has made it the fastest growing water sport in the world. SUP is an amazing approach to exploring local waterways as the vantage point provides a different prospective into the water. This low-impact sport is perfect for all ages and it's fun. There's a lot of interest about SUP in our area as more people are purchasing boards and trying out the sport.
There is a lack of paddle stroke instruction when people rent or buy boards. There is a lot that goes into a proper stroke! Unless you are taking a formal lesson or attending a paddle clinic, you may not receive proper paddle stroke instruction.
Beginners should learn the basic paddle strokes for turning and stopping. A back paddle or reverse paddle stroke, is used for stopping and reversing on the paddleboard. A simple way to turn is by sweeping the paddle in a C like shape for more maneuverability. Paddle strokes for high speed turns will appeal to intermediate and advanced paddlers.
Racing courses are designed with sharp turns. Any paddler interested in racing should know quick turns to increase speed around buoys.
Proper paddling instruction increases speed, teaches safety, and prevents possible injury. Learning to navigate provides safety by teaching how to stop, avoid obstacles and paddle in wind and current. Paddle stroke techniques can increase speed drastically. For example the most power from the paddle stroke is found at the top of the board. Reaching the blade of the paddle to the nose of the board can increase momentum. It is important to twist the body for optimal reach in paddle stroke.
The basics of the SUP paddle stroke are simple concepts. For example, it is best to use your total body when paddling to prevent fatigue. A paddle should be sized for the paddlers height. Appropriate sizing ensures the paddle blade can fully enter the water. Little corrections make a big difference in paddling efficiently. A common mistake is facing the paddle blade in the wrong direction. Although the paddle does work both ways it's best to have the logo facing forward.
Paddle stroke education is very important when participating in the sport for the first time. An experienced instructor can correct common mistakes quickly. The most common mistake is the hand placement on the paddle shaft. Posture should be explained properly and demonstrated for efficiency.
SUP Englewood is hosting a Paddle Stroke Clinic focusing on posture, paddle drills, finding the power zone, paddling turns, and intro race training technique. Instructed by Paddle Fit certified instructors on November 17th. The class will be divided into two groups for beginner and intermediate paddlers. Please sign up at www.supenglewood.com or call 941-234-4311 for questions.
Find the latest dates for our Paddle Stroke Clinic by contacting us.