What is PaddleFit?
One of the most common questions I receive from people is "how difficult is it to stand up on the board?" It is easy to learn how to stand up on a paddleboard. Most people get the hang of it in a matter of minutes. It is the technique in paddling that takes some time and practice to master. Proper paddle stroke allows for one of the best cardio and abdominal workouts you will ever try. This is where the concept of paddle fitness was born. Learning the techniques for proper paddle stroke is more efficient and an important aspect in self-rescue. As wind and weather conditions can change while paddling on open water it is important to know how to paddle quickly through any wind condition.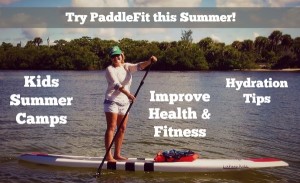 Paddle Board Fitness & PaddleFit
Racing paddle strokes were developed by combining theory from Hawaiian and Tahitian paddlers. When learning proper stroke the emphasis should be on technique and not speed. The rate of paddle strokes per minute will increase with practice. While stroke is a great way to get in shape paddleboard fitness has been increasing in dynamic ways. PaddleFit is a brand of fitness classes designed with boarders in mind. PaddleFit is Founded by Brody Welte, discover more information on his website for PaddleFit.
Dynamic Classes Only PaddleFit Instructors Can Provide
These dynamic classes take place on land and in the water. Warm ups and cool downs are preformed just like any other fitness class. The difference is the cardio and cross training aspects of using paddle boards for fitness routines. SUP Englewood is proud to be one of three PaddleFit Affiliates in Florida.
PaddleFit helps you reach general Fitness goals
Improve your general fitness with a cardio workout that includes paddleboard training. PaddleFit classes improve strength, and flexibility. Build stamina paddle boarding while toning specific muscles used for the sport. Strengthening the core muscles provides your body more balance on the paddle board. Core stability also helps to improve and correct posture. Paddleboard fitness classes are a fun alternative to hitting the gym. Working out on the water provides a change of scenery and an exciting atmosphere.
PaddleFit Classes offered in Englewood, Florida
SUP Englewood offers two PaddleFit classes, Killer Cardio and Intermediate Paddle Board Classes. Killer Cardio is a PaddleFit complete class combining water & land exercises. This interval training class focuses on building strength and cardio endurance. Each class will get your heart rate and energy up. This circuit training routine will have you transitioning from prone, kneeling, and stand-up paddling. Strength training workouts on the water will take traditional gym classes to a new level. Use your paddle board as an exercise mat, and build core strength while preforming exercises in the water.
PaddleFit for Paddle Stroke Technique
Intermediate Paddle Boarding is a PaddleFit Water class. The entire class is spent on the water. Expect your paddling strength and endurance to increase with this PaddleFit class. To go the distance you have to first learn how to paddle at a solid pace for a longer period of time. The emphasis is on paddle technique to build stamina and gradually increase speed. Each class focuses on a different paddling technique or aspect of stroke. Timed half-mile paddles will help track your progress and show the results of training.
Discover the benefits of PaddleFit!
PaddleFit classes are becoming popular as more people try paddle boarding and realize the physical benefits. All activity levels are encouraged to try paddleboard fitness classes. Coaches modify exercises for beginners and offer more challenging options for elite athletes.