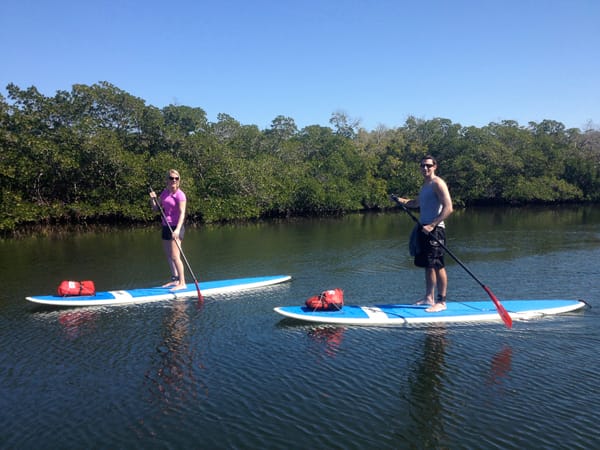 Balancing on a SUP Board
Mastering the Art of Balancing on a Paddle Board: It's Easier Than You Think!
Ever gazed longingly at a Stand Up Paddle Board (SUP) gliding across the water and thought, "I'd fall flat on my face!"? Well, it's time to flip that narrative! Balancing on a SUP Board is not only doable but enjoyable for everyone, regardless of age, weight, or ability. At SUP Englewood, we're going to debunk the myths and show you just how accessible and fun this sport really is.
The Basics of Balancing on a SUP Board
Contrary to popular belief, you don't start your paddleboarding experience standing. Begin by kneeling or sitting on the board. This helps you adapt to the SUP board's movements while engaging your core, thighs, glutes, shoulders, and back muscles. The initial kneeling position is your first step toward mastering the art of balancing on a SUP Board!
Picking the Perfect Paddle Board for Optimal Balance
The size and type of your paddleboard can make or break your balancing act. Boards that are longer and wider offer better stability—crucial for newbies. We recommend opting for a cruising or touring board rather than a surfing or racing board when you're still learning. Also, keep an eye on the weight limit, which varies from board to board.
At SUP Englewood, we provide lessons on 11′ Tahe boards. With a width of 34" and thick rails, these boards are engineered for balance and stability, helping you feel at ease during your very first paddle boarding session. Learn more about choosing the best board.
The Role of Water Conditions in Balancing on a SUP Board
Water conditions can either help or hinder your balancing efforts. Calm water is your best ally when you're a beginner. We suggest bay-side locations as the go-to spots for first-timers focusing on balancing on a SUP Board.
Try Balancing on a SUP Board with Our Guided Tours!
Confident enough to give it a try? Our guided tours are perfect for beginners and include both land and water lessons. Learn the fundamentals of balancing on a SUP Board while taking in the beautiful surroundings.
Conclusion: Your SUP Balance Adventure Awaits!
Balancing on a SUP Board doesn't have to be an intimidating experience. With the right board, the ideal water conditions, and a sprinkle of determination, you'll find it's as easy as, well, riding a bike! Whether you're young or young at heart, fit or looking to get fit—SUP has a spot for you. We can't wait to see you master the art of balancing on a SUP Board with us!
Reserve for a Splashin' Good Time