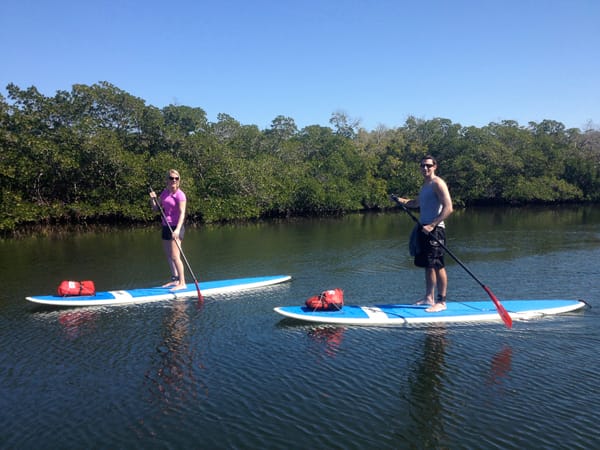 Balancing on a SUP Board
Most people wonder how they will ever keep their balance on a Stand Up Paddle Board. I promise, it's not as complicated as it might seem! First of all, you do not start off standing on the board. A simple kneeling stance is the best way to start learning how to keep your balance on the SUP board. The kneeling position will help your muscles to gain stability on the board; as your thighs, glutes, abs, shoulders and back muscles are all engaged in this activity.
Of course stability depends on the paddleboard as well. The longer and wider the paddle board is, the more stable you will be when trying out SUP for the first time. You should start with a cruising or touring model verses a surfing or racing stand up paddleboard. Also it's important to look into weight limits on paddleboards. Typically each size has a recommended weight limit; for instance 11' SUP ATX boards are suggested for people that are 165 pounds or less. While 12' SUP ATX boards are perfect for anyone under 250 pounds. However, both boards can support up to 300 pounds.
SUP Englewood provides lessons to adults on 12' model SUP ATX boards. This will help people to feel more comfortable and confident during their first SUP session. Children can start learning on either an 11' or a 12' model. They will be more stable on a longer board as well.
Water is an important factor when balancing on a Stand Up Paddle Board! You want to start off in calm water as any waves will cause instability at first. Bay side locations are recommended for beginner stand up paddlers.
As long as all these factors are taken into consideration standing on the paddleboard is as easy as standing on land. If you're interested in taking a SUP lesson check out our guided tours. Stand Up Paddle Board Guided Tours include a land & water lesson.