Paddle Board & Kayak Weeki Wachee Springs State Park


Looking for a new paddling excursion? Paddle Weeki Wachee!
I'm always on the lookout for great paddling locations. I recently traveled north to Weeki Wachee Springs State Park for a paddle board trip. This Florida State Park is well known for its mermaid shows. Well I didn't stay for one of those; the clear spring water that surrounds this Florida State Park fascinated me. This is a freshwater area that flows into the Gulf of Mexico. This area is known to attract manatees that are looking for warmth and fresh water to drink. I was amazed by the views paddling this area. Pristine clear water and an abundance of wild life surround this park.
As a coastal tour guide I was amazed at this fresh waterway. I spotted fresh water turtles, large mouth bass, and herons all through the paddling trail. Egrets, anhinga, and osprey are also common along the waterways. Oak, slash pine, and sable palm trees created a natural habitat for fresh water birds, and wild life. About halfway down this stream we noticed a doe watching us paddle along. That was one of the highlights of this paddling trip.


Paddle Board Weeki Wachee Springs State Park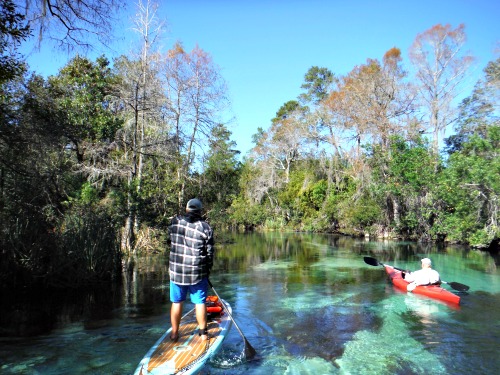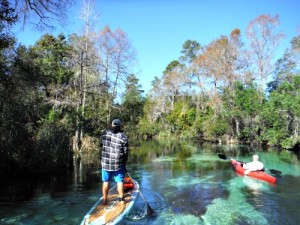 This Florida State Park is maintained like the parks that surround our area. Keeping the parks clean and maintaining native vegetation promotes a healthy habitat for birds and other wild life. Florida has about 700 springs. When the flow of a spring is sufficient to create a stream or river they are called stream runs. This stream runs right into the Gulf of Mexico. During our paddling trip I witnessed a large pod of manatees in this area.
Paddling Adventures is a paddling company located at the Weeki Wachee Springs State Park. This location offers an area to launch and kayak rentals. Paddling Adventures features a pick up service for people and vessels at Rodgers Park down stream. The kayak launching area is located by the headspring, which produces a strong current of about 5 mph. Launching from Paddling Adventures allows paddlers to experience a down stream paddle of 5.5 miles. There are signs located at toward the end of the paddling trip directing paddlers to Rogers Park located in Hernado County. The Paddling Adventures staff is located at this county park. A van and trailer picks up paddlers and their equipment and commutes everyone back to the launching point. This was an easy, fun trip for all skill and ability levels. There is a small fee for the launching and pick up service if you are bringing own vessels. It was well worth the fee to be able to enjoy this scenic park.
Paddling Tips for Weeki Wachee Springs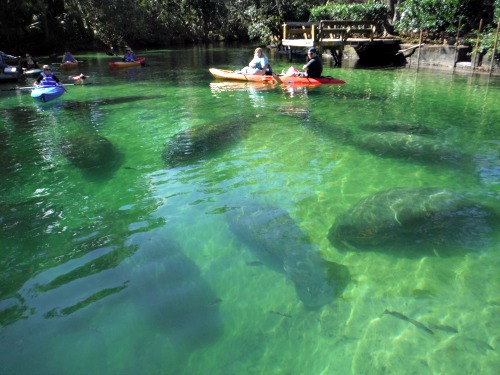 This area is very safe for paddling but I have a few tips for anyone that is looking to paddle here. Knowing proper techniques for drag strokes, and turning is very helpful. The current from this stream run can easily turn your board or kayak sideways. I noticed this effect of the current as we were approaching bends in the stream. Not correcting this sideways turn from the current could make any paddler take a spill. Performing a drag stroke is a simple way to correct your vessel to turn in these situations. I would also recommend coiled leashes while paddle boarding in this location, as there are a lot of branches that hang low. Coiled leashes prevent entanglements with objects in the water, as a straight leash tends to drag in the water.
Plan your trip with Paddling Adventures
Paddling Adventures
Kayak Rentals at Weeki Wachee Springs State Park. Pick up service for people and vessels located at the end of 5.5 mile down stream paddle.
6131 Commercial WaySpring Hill, FL34606
Phone: (352) 597-8484