SUP Fishing for the First Time in The Gulf of Mexico
Stand Up Paddleboard (SUP) fishing is always an adventure on the water. The first few times I went I took my board inshore. Paddleboarding is definitely more difficult when adding extra gear to your board and moving around in swells. It took a few SUP fishing trips before I was used to the feel of reeling in fish, and felt more coordinated with my SUP fishing gear. Once I had the hang of it, I wanted something more extreme so I decided to go out into the Gulf. Following one golden rule of trying a new paddling adventure in the water, I took a paddleboard friend along.
Gearing up for SUP Fishing
Gearing up for this event was an interesting experience in itself. This was the first time taking gear into the gulf. Carrying rods, paddle, bait bucket, and anchor in one hand and my board in the other was a challenge. I didn't exactly pick a calm day. There was a slight west wind, and decent breakers in the gulf.
Falling in the swells while SUP Fishing
Since I had a friend with me the trip to the end of the pass went by very quickly. As we were chatting and paddling I completely forgot that there were waves around. At one point of the pass the waves break closer to shore. I was so distracted that I did not prepare myself for the five-foot wave coming my direction. That was my first fall of this trip! Losing most of my gear in the water helped me to realize that strapping equipment to the board and under the bungees is best in the gulf.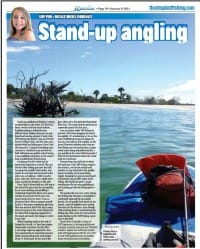 View nature while SUP Fishing
While traveling south to the end of Stump Pass Beach, a six-foot long tarpon swam under my board. Shortly after a very large eagle ray appeared. I was very surprised by its extremely long tail, which reached almost the total length of my twelve-foot board. At the end of the pass, there are a few uprooted Australian Pine trees. The snook and sheepshead are commonly spotted in that area.
Using an anchor to SUP Fish
I use an anchor while SUP fishing to prevent a fish from dragging the board too quickly. It's a balancing act to say the least. Paddle board yoga has helped to increase my balance and stability on the board. However nothing could stop me from flying over the board when a giant snook came along and pulled my line. I was quickly in the water! Unfortunately I fell onto the bait bucket when the snook took me overboard.
Lessons Learned SUP Fishing
I learned two tips with this incident the hard way. First, SUP Fishing requires two leashes, one for the anchor and another to stay attached to the paddle board. Secondly, try to keep things simple. Keeping less gear on your board will prevent any possible injury when falling. My friend had quite a laugh watching me fly over my paddleboard and coming up with the fishing pole in hand.
The marine life was very active during this fishing trip. Manatees and dolphins continually approached our paddle boards. On our paddle back north back to our launch, a pod of dolphins were surfing the waves in the distance. Even though I did not bring home a snook during this fishing trip there were lots of memories made during my first SUP fishing experience in the gulf.