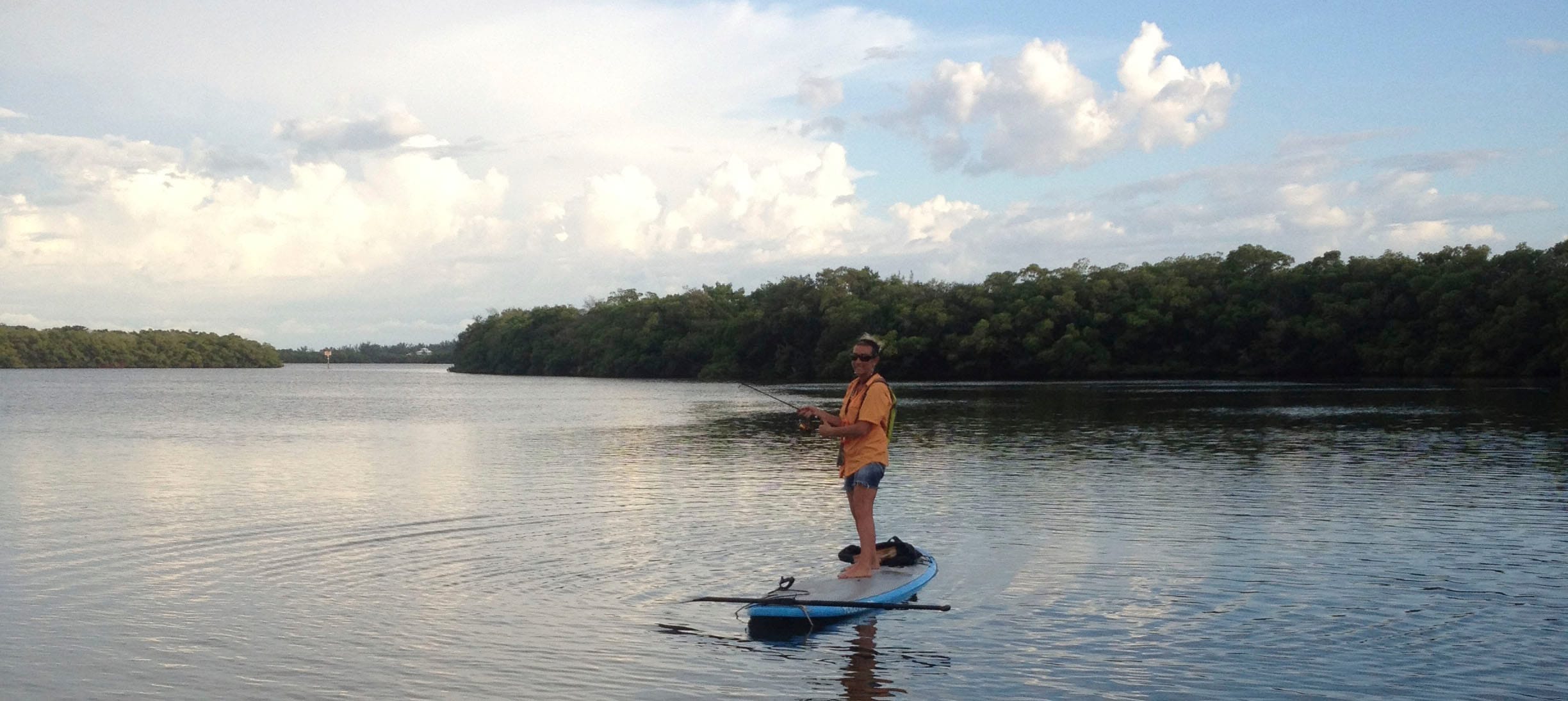 The Stand Up Paddle (SUP) Board Fishing Experience
If you are into fishing and want only the most unique way to catch fish, then paddle board fishing is for you! You might not have any idea what SUP of fishing is about. It can be like surfing while fishing since you are using a paddle board.
SUP fishing is as adventurous as you want to be. Choose your water location based on your skill level. For beginners it's best to choose a bayside location for saltwater fishing. Freshwater SUP Fishing can also be done on lakes, rivers, and lagoons. A skilled paddle surfer will prefer the Gulf of Mexico for a challenge. Take note that this type of fishing is not for everybody because not all prefer the more adventurous kind of fishing. This is especially more tempting for surfers who want to be fishermen at the same time.
What's Good about SUP Board Fishing:
Aside from the fact that it gives thrill and adventure for the fishermen and paddle boarder, it also has the following great advantages that would make SUP board fishing a worthy fishing experience:
SUP Fishing is perfect for shallow waterways
With SUP board fishing, you can fish in shallow places, which normally can't be reached by boat. Whether it's shallow or deep, SUP board fishing can be your ideal fishing experience.
Better viewpoint for sight fishing 
Standing on a paddle board offers a unique viewpoint into the water, which allows you to see all the fish swimming below. When paddle boarding for leisure take note of the underwater structures and be sure to note where you commonly see schools of fish. SUP fishing can be done with more finesse and accuracy when the water clarity allows.
There is an element of adventure
Like kayaking, you can feel the high spirits of adventure while doing SUP board fishing.
There are also varieties of SUP boards to choose from such as Tower SUP boards, which are purposely designed and shaped to improve tracking in flat water and facilitate speed in terms of surfing. On the other hand, the Coreban Paddle Boards invests more on durability as it has a special feature of extreme durability with a nice polished finish.
You may even go crazy on the accessories if you are an avid SUP board fisherman. These essential accessories will help you improve your skill in SUP board fishing:
There are many different brands available, however you want a light cooler to eliminate extra weight on the board.
These can be purchased or designed with PVC piping. You are sure to have a peaceful fishing experience once these are attached to your board.
Keep all of your fishing supplies in one place while SUP fishing! If your tackle box cannot be strapped to the board on its own, look into either tying it to bungees on the front of the board or attaching a crate to the board to hold equipment.
Stay in place while fishing with an anchor attached to your paddle board. The best way is to attach a line where the leash connects to the board and keep the anchor on the tail until you're ready to cast.