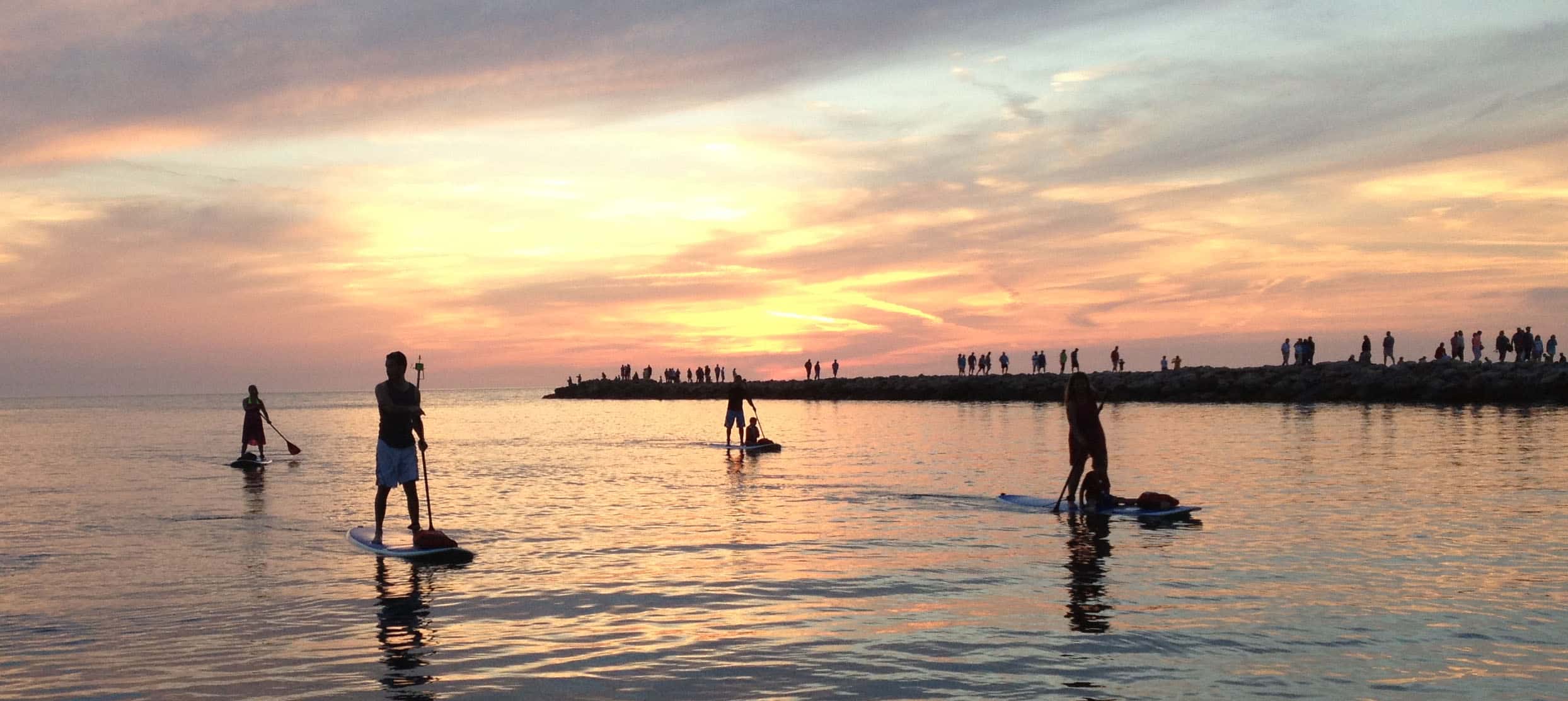 Amazing Places to SUP in Venice, Florida
Are you looking to paddle board in Venice, FL? Stand Up Paddling (SUP) is an amazing way to view the Gulf Coast. When visiting Venice, Florida be sure to stop by the following paddle spots. If you are new to SUP, we recommend trying out the sport in the calm water of the bay. Gulf side SUPing is best for beginners only on calm winds or steady East winds as the gulf will very flat given those situations. However, that's considered an off shore wind, and you'll need to be mindful of paddling close to shore. If you are visiting or do not have a board look into Stand Up Paddle Board Rentals.
Venice Beach
Venice Beach is known as the shark tooth capital of the world. Travel by SUP about a 1/4 mile off of the shore line to a coral reef frequented by snorkelers and divers. You can pack gear on your SUP and anchor here for an amazing view beneath the sea! The water at this beach is perfect for Stand Up Paddle Boarding and you'll see many fish swimming in the clear water.
Venice Beach Address: 401 West Venice Avenue Venice, Florida 34285
Caspersen Beach on Venice Island
Caspersen Beach is one of Florida's most natural beaches and has clear blue water to view while SUP boarding. See many fish, birds, and possibly even dolphins and manatees while paddling in the Gulf of Mexico.
The Caspersen Beach Nature Park is located behind the second parking lot at the Caspersen Beach. The water here is brackish, which means that it's a mix of salt and fresh water. There is a possibility that you may see alligators while paddling in this area. This location is perfectly calm due to the mangroves that surround this body of water and there's plenty of nature to view.
Caspersen Beach Address: 4100 Harbor Drive Venice, Florida 34285
Paddle Board at the Venice Dog Beach
At South Brohard Beach & Paw Park you can SUP with your fuzzy friend. Expect a long walk with the paddle board however the payoff of seeing your dog riding a SUP board is totally worth it.
Venice Dog Beach Address: 1600 South Harbor Drive Venice, Florida 34285
The North Jetty
The North Jetty offers the best of the both with beach and bayside access. There are several paddling options depending on your skill level. Beginners should try out the bayside and explore the barrier islands that surround Casey Key. While advanced paddlers can paddle through the Jetty located between Venice Island and Casey Key. Advanced paddlers have the option to enter the gulf and paddle surf into Venice Beach, or to the North Jetty Beach at this dynamic location.
Address: 1000 South Casey Key Road Nokomis, Florida 34275.
Looking for paddle board rentals near Venice, Florida?
SUP Englewood offers multiple day paddle board rentals to private waterfront property in Venice, Florida and surrounding areas. Sarasota County Parks and Recreation does not allow the delivery of rental equipment to their parks. Please visit SUP Englewood at our Charlotte County locations for the closest paddle boarding rentals to Venice, Fl.
Paddle Board Rentals Near Venice, FL
Paddle board rentals are available near Venice, FL at our Placida location. SUP Englewood launches paddle board rentals Wednesday to Sunday by reservation at the Don Pedro Island State Park. Address is 8450 Placida Road Placida, FL 33946. Please call us at 941-265-2925 or book online prior to arriving to ensure paddle board rental availability. Book a Paddle Board Rental near Venice, Florida.
SUP Yoga near Venice, FL
Want to experience SUP Yoga while staying in Venice, FL? Discover the best SUP Yoga classes in Southwest Florida! SUP Yoga SRQ features world renowned Yogini Steph Ouellette. Float in bliss with the most qualified SUP Yoga Instructor in the area.