Best Kayaking at Don Pedro Island [5 Reasons to Kayak]
Top 5 Reasons To Go Kayaking at Don Pedro Island 
Discover the top 5 reasons to kayak Don Pedro Island State Park. This area is considered one of the top kayaking destinations in Southwest Florida. Please note: this article comes with slight bias as we operate a paddle sports company in the area. Besides that detail, I have been a paddler for over 15 years, traveled to the hottest spots in Florida for paddling, and written professionally as a columnist for paddle boarding. Now, let's dive into the juiciest parts, exploring Don Pedro Island.
First of all, what is this island and where is located? Don Pedro Island is a barrier island in Southwest Florida. It's nestled between the gulf coast islands of Boca Grande and Manasota Key. This island can only be reached by boat, but don't worry there's a land base state park access point that offers a parking area, hiking trails, restrooms, kayak wash area, and most importantly, a kayak launch
#1 Provides Kayakers with an Off-Grid Experience
This Florida State Park is a premier paddling destination. Kayakers paddle to undeveloped areas providing a peaceful off-grid experience. This area is great for all paddling skill levels and outdoor lovers. The recommended paddling route is under 3 miles and provides paddlers with the highlights of visiting the island. Undoubtedly, this is my favorite area in fall when everything is quiet and the summer rains have ceased. That's when the water is clearest and the least amount of people are present locally. Due to the tidal changes, we recommend checking the tides before you launch.
How do I know the best tides to access the mangrove areas?
This area is one-way access leading to the inside of the island and it is very tidal. For that reason, we recommend checking the tide and only going when you have any tide between a 0.1' to 1.8' tide for the best access for most vessels. tides4fishing.com is a great tool to utilize and this geographic area is referred to as Placida, FL.
#2 Kayak to secret Areas – Paddle Map Recommended
This spot features secret areas that could be easily missed unless pointed out. Luckily, we provided a paddling map of Don Pedro Island to help paddlers find their way. Located across from the main kayak launch is a small opening through the mangroves that leads to a hidden, coastal lagoon inside the island. A unique estuary can be found here, with sea stars and live soft coral. There is a colony of sea stars that live within the tunnel. Other marine life can be found throughout the tunnel including, blue crabs, fish, live shells, and sponges. The trip through the tunnel is fascinating every time. Following the mangrove pathway, paddlers usually venture to the beach side of the island. This leads to our next highlight!
Kayak Don Pedro Island Paddle Map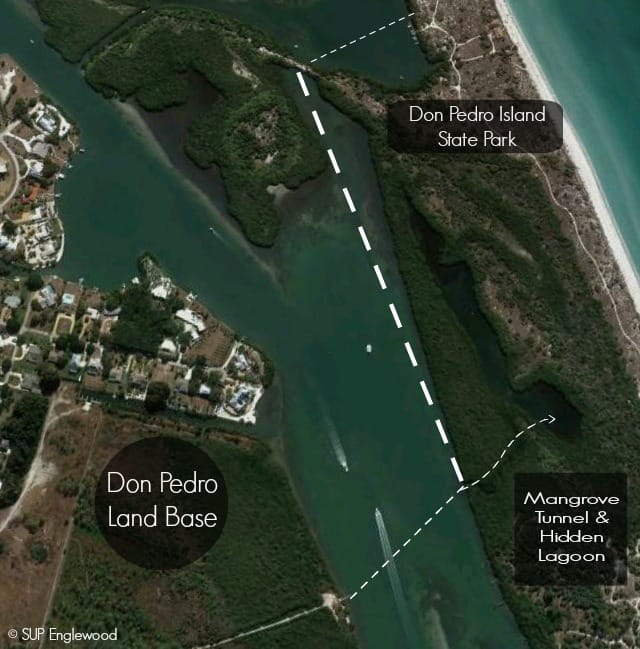 #3 Visit the Don Pedro Island State Park Beach
Visiting the Don Pedro Island State Park Beach is a memorable experience. Without a doubt, this destination becomes a vacation highlight and people always want to come back to this area. Once you're there it is like you've left Florida and traveled to the Caribbean. Additionally, you're usually only sharing the beach with a handful of people. The water is shallow for the first 200 feet which gives the appearance that the water is clearer here than in other areas. The beachside features a kayak launch, kayak rack, picnic pavilion, picnic tables, and restrooms. Further allowing for a great shade and picnic lunch area for families and solo kayakers alike to rest and enjoy.
How to visit Don Pedro Island Beach?

 
This is one of the most confusing islands for locals, tourists, and travelers alike. This beach is only accessible by boat and there are only about 10 parking spots at the dock. While it seems ridiculous that the beach is this wildly inaccessible, it is one of the best features of venturing to it. There are 4 ways to visit Don Pedro Island Beach.
Boating to the beach via ferry service (not currently operating)

 

Paddle craft (kayak, canoe, paddle board)

Renting a Boat

Hiring a captain

 
#4 Wildlife is everywhere!
Don Pedro Island is abundant with wildlife. Like other national and state parks, having an undeveloped area allows for native habitats to thrive. In addition, the Florida State Park Service is committed to removing all invasive plants from their lands. Subsequently allowing for great habitat zones for wildlife. The land base features a mesic pine flat woods environment that supports many species of birds, raccoons, marsh hares, gopher tortoises, and others. This year in March of 2021, I had a panther sighting on the Don Pedro Island Land Base side. It was only once but all the same, it was an unforgettable experience!
#5 Marine Mammals
Getting back to the waterways, marine mammals can be spotted throughout the paddling route provided. It should be noted that sightings are also common from the dock and kayak launch of the land base. Marine mammal species include the bottle-nosed dolphin and west Indian manatee. We highly recommend paddling with a camera to capture wildlife encounters. Conversely, we also recommend following all the guidelines below when paddling with marine mammals. It should be noted that manatees have experienced significant mortality events and need our help on the water to prevent more deaths from happening.
These are both federally protected species by the marine mammal protection act. Meaning there are laws in place for paddling with these mammals. Once you spot one, it is illegal to paddle closer to them. It is also illegal to lure them over to your paddle crafts.
One of the reasons why is because once marine mammals lose their fear of people they start approaching other vessels, not just paddle crafts. Obviously, no one wants to cause harm to these mammals, however, socialization is their biggest threat to survival.
Tips for kayaking with marine mammals:
Never Chase or pursue them
Don't try to lure them to your vessels
Let the mammals come to you
Wear polarized sunglasses to better see the mammal
Learn how to spot manatees in the water to prevent separation events.
Video of Paddle Boarding to Don Pedro Island from the early days of SUP Englewood